OBLIVIOUSSIGNAL
Quick Bio
Oblivious Signal is a rock band on the edge...
Of just about anything.

Their strong sense of melody and lyrical storytelling, metal roots and
international inspirations have led Oblivious Signal to where they are
now. And their new music, years of experience, and solidified line up drive them toward a strong future; fated to be one of the leading rock metal bands of tomorrow.

Reigning as "Florida's Queen Of Rock" frontwoman Cristina T. Feliciano continues the journey of using her classic voice, contemporary stylings, engaging stage presence and dynamic abilities in all aspects of music including writing, recording, production and performance. Feliciano is an accomplished touring musician and a professionally trained vocalist, sponsored by high end equipment companies Heil Mics and Nady Systems. Her Puerto Rican herritage allows her to sing in both English and Spanish, opening them up to broader audiences and increasing numbers of fans worldwide.

The backbone of Oblivious Signal and lead guitarist Nick Orisino continues to mature as a musician, writing stronger rifts and playing even the edgiest solo with the smooth precision that comes only when raw talent is paired with vigorous practice. Whether adding more intricate guitar lines to new songs, or laying simple rhythm tracks, Orisino can easily be identified by his seasoned sound.

Endorsed by Lakland Bass, Greg Andrews joined Oblivious Signal in the fall of 2011 and has proved to be a valuable contributor to both the creative process and the business end of being in a band, as well as an outstanding live performer.

The return of Jason Tally on drums brings the band renewed strength and has rejuvenated their creativity. Now complete with their founding drummer, they stand in a place of solidarity, ready to dominate the scene with new music and vitality.

Notable shows include: Rock the Planet Festival at Revolution Live,
Florida Power Metal Fest, Femme Fest, and Hot Topic In-Store
Performances, a performance all in Spanish at the Bayside Marina Stage
in Miami, and the Atlantic Records Showcase at Miami Music Fest. They
have opened for some of the heaviest names on the scene including
Ekotren, Jump Suit Aparatus's drummer's side project, The Material,
Hilary McRrae, Circle II Circle and alongside of members of Testament.

Oblivious Signal's 2008 demo featured Feliciano's metal screams, while songs from 2010's Into The Night still featuring heavy riffs, the screams replaced with strong edgy vocals and smoky sensuous hooks.

Currently the band is in pre-production on their sophomore album expected to hit near the end of the year.

Interviews can be seen in Guitarist International; For The Sound; I Am The Trend; Metaladies.com; Outsider
Vocals; Pop Culture Monster; Target Audience Magazine; and scores of
others.
Our Influences
Metallica, In This Moment, anything rock.
Bands We Share The Stage With
Ekotren, Red Jumpsuit Apparatus, Testament, The Material, and many more.
---
Oblivious Signal Updates!!
by ObliviousSignal, posted 05/29/08 10:08:31
» Events

Okay So we were at 97 last week for Alternative...now we are #40!!! Thanks to everyone who is making this happen! Make sure to add our songs to your profiles and "Spread the Signal"!

Check out our Demo at a show near you! It will soon be up for sale on the Oblivious Signal Website!!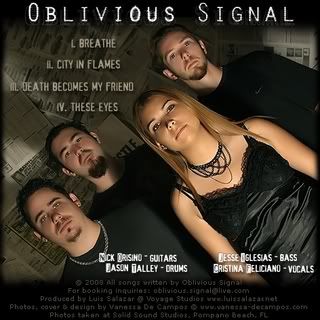 COME OUT AND SUPPORT OS!

Check out Our live Video for "Expressionless"
by ObliviousSignal, posted 04/08/08 16:22:51
» Video
http://youtube.com/watch?v=-SlA6ejZ4Fk
Show coming up!!
by ObliviousSignal, posted 04/03/08 15:52:06
Check Out our Songs and Video!!!
by ObliviousSignal, posted 03/31/08 09:05:20
» Video
Hey guys you can now come check out our music at our Youtube or Myspace. These were video's taken at past live performances. Feel free to comment and leave feedback!


ADD Oblivious Signal
Come Check Us Out at a Venue Near You!


click picture to see profile
Add us or come check us out!




Thanks
Oblivious Signal